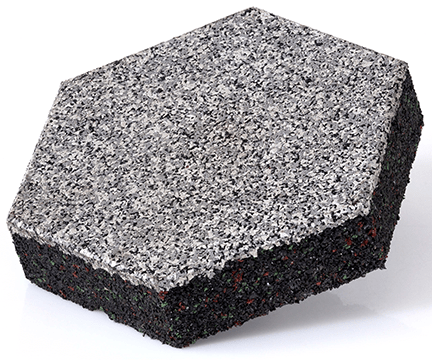 New Premium Color Options Now Offered for SofScape Hexagonal Pavers
At Diamond Safety Concepts, we have been selling rubber tiles and pavers since 2001. The 9" hexagonal pavers from SofScape were among the very first rubber pavers we offered to our customers. Due to its robust construction and value pricing, SofScape has remained one of our most popular products in the small rubber paver category.
Over the years, SofScape has evolved quite a bit. The SofScape pavers were originally produced by a small Pennsylvanian company located in the heart of Amish country. A few years later, production was moved to Puerto Rico where the company headquarters remains today.
Producing the SofScape pavers in Puerto Rico has been challenging, primarily due to the high cost of shipping the finished products to customers on the North America mainland. In 2014, a Canadian production plant was opened near Detroit, in Tilbury Ontario, to address this problem. Most of the SofScape pavers destined for customers in the US and Canada are now produced in this facility.
The creation of this new production facility allowed the company to incorporate the latest technologies to improve efficiency and quality. It also created the opportunity to introduce some striking new premium color options.
SofScape pavers have always been offered in four classic colors, Terra Cotta Red, Green, Gray and Black. In October 2014 SofScape announced a collection of premium, multi-color mixture options. The premium colors use solid-colored TPV, (Thermalplastic Vulcanized), granules in the surface color layer, instead of the pigment-coated rubber granules that are used for the standard colored pavers.
TPV is the state of the art when it comes to the premium coloring options that are used in the production of rubber tiles and pavers. TPV granules offer a dramatic improvement over EPDM when it comes to color consistency and UV stability. TPV granules contain no heavy metals or toxic chemicals. They are also highly flame resistant. This material is more resistant to wear and fading than the previously available coloring options.
SofScape has released four new TPV based color options. These colors can be ordered today. Custom color mixes are also available, (minimum order quantities apply).

The new SofScape premium colors cost a bit more than the standard colors but prices remain very competitive with the premium colored rubber tiles and pavers offered by other manufacturers.
For more information about SofScape and their new premium colored pavers, visit the Diamond Safety Concepts website  #Rubber Decking