Diamond Safety Concepts, Est. 1991
Company Background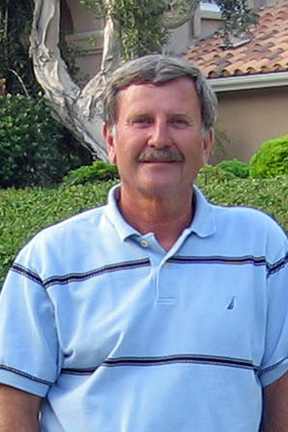 1991 was a recession year. It was a time when many formerly successful executives found themselves on the short end of a corporate reduction-in-force. This was the case for Bob Van Epps, founder of the company we know today as Diamond Safety Concepts. For the previous 15 years, Bob had been paying his dues, working his way up the ladder in a variety of sales positions, mostly in the computer maintenance industry.
Back in the day, companies that specialized in fixing the expensive but vital computers upon which many businesses had become dependent, were in great demand. This was one of those niche business sectors which enjoyed rapid growth and excellent profits. In 1981, Bob joined a small, start-up computer maintenance company as VP of Sales and Marketing. For the next ten years or so, Bob and his team worked very hard to grow this business.
The company was quite successful, growing from a staff of less than ten, to several hundred at its peak, with offices nationwide. Unfortunately, all good things usually come to an end and that was the case here. The invention of the PC ultimately made most of the big computers that Bob's company supported, obsolete. As users switched to the new technology, this business sector all but disappeared, taking with it many careers, including Bob's. The challenge at that point was to restart a once promising career in the midst of a significant recession.
As many who read this can attest, it can be very difficult to find meaningful employment during a serious recession. After a long search, Bob teamed up with a small company in Ohio which had invented a revolutionary new type of floor safety technology known as Safety Grooving. Safety Grooving is a flooring scoring process which uses diamond tools to cut a shallow, concentric circular groove pattern into hard floor surfaces such as tile or concrete. The grooves work like treads on a tire to defeat the hydroplaning effect and reduce the risk of slips and falls.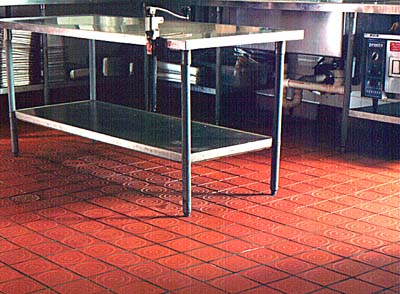 The initial application of this technology was on kitchen floors in fast food restaurants. Prominent restaurant chains, such as KFC and Wendy's, were among the first to adopt Safety Grooving. For these and other companies, Safety Grooving was a relatively inexpensive way to reduce the number of slip and fall accidents, which had become a costly burden to restaurant operators.
Since its introduction, Safety Grooving has been installed in several thousand restaurants kitchens across the United States and Canada. The resulting reduction in accidents and injury claims has saved our Safety Grooving customers millions of dollars over the years.
Alas, one of the great features of Safety Grooving served to be a problem down the road. Safety Grooving is a permanent process, retaining its effectiveness for the life of the floor surface to which it has been applied. As a result, each customer installation was a one-time event, with limited prospects of future orders. As time passed, and the restaurant industry become more aware of floor safety issues, better flooring materials were used in new construction and the need for Safety Grooving in this environment diminished.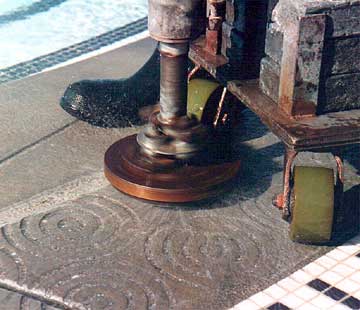 As the food service customer segment declined, another took its place. Wet concrete floors in industrial environments and on the decks around swimming pools can be dangerously slippery. Over time, operators in these market segments discovered the benefits of Safety Grooving. Soon, the phones were ringing once again as hundreds of public aquatic centers and industrial facilities turned to Safety Grooving as a way to create a safer environment for their employees and guests.
In the mid-1990′s, Bob split from the parent company, acquired the franchise rights to Safety Grooving for the western US and formed his own company using the Diamond Safety Concepts name. About the same time, the Internet was becoming very popular as a means to market products and services to the widest possible audience. Recognizing that this was the future, a web site was created to showcase Safety Grooving and the other floor safety products and services the company was offering at the time. Business started to boom.
Over time, the company also began to evolve from one that primarily offered floor safety services such as Safety Grooving and some other anti-slip treatments, into one which also sold a variety of slip resistant flooring products. Flooring materials, made from recycled tire rubber was one of the rapidly emerging types of products in this category. At first there were just a couple semi-obscure rubber tiles and pavers. As recycled rubber flooring materials became more popular, Diamond Safety Concepts was building a name for itself as a leading retailer in this market segment. Over the next few years, nearly every North American producer of recycled rubber flooring products came knocking on the company's door, hoping to recruit DSC to be one of their key retailers.
Diamond Safety Concepts is and always has been focused on providing the best possible service to its customers. A key part of this focus, is the ability to offer the very best selection of high-quality, innovative products. In order to be adopted by Diamond Safety Concepts and displayed on the company web site, products have to be among the best in their particular category.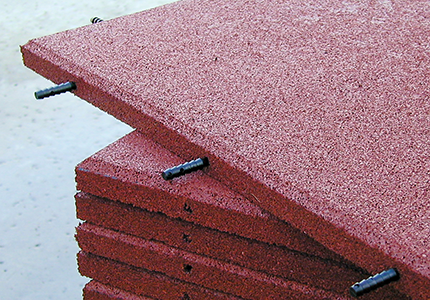 While there have been many products which DSC has offered from the beginning, a number of former suppliers have been "fired" over the years for not maintaining the highest standards of quality, product consistency or customer support. This is one of the reasons that very few of the low-cost Asian imports, which can often be found at the big-box stores, make it to the DSC product roster. Low cost is a great thing but if that means low quality or worse, these products will not make the cut at Diamond Safety Concepts.
Today, DSC represents close to fifty manufacturers and offers hundreds distinct products, in a variety of product categories. New products are constantly being evaluated, with only the best the best being displayed on our web site.
In early 2014, the DSC website was completely redesigned, taking advantage of the latest technology. One of the primary goals behind this redesign was to make the site the most user-friendly in the industry. The redesigned Diamond Safety Concepts web site features an intuitive layout and robust collection of useful product and technical information, designed to help educate our customers while making the purchasing experience easy and comfortable.
While we have grown substantially over the years, DSC is still a small, family-owned company. We remain focused on providing the best possible customer service. For this reason, we have not followed the example of many of our competitors and included an on-line ordering system in the new website design. We believe that to help our customers make the best product choices, we must interact with them on a one-to-one basis during the sales cycle and maintain personal contact during the entire purchasing process. Exercising this approach takes a little more time but we believe that taking this extra time results in a more a more positive experience, for both our customers and our staff.