Anti-Slip Floors & Floor Coatings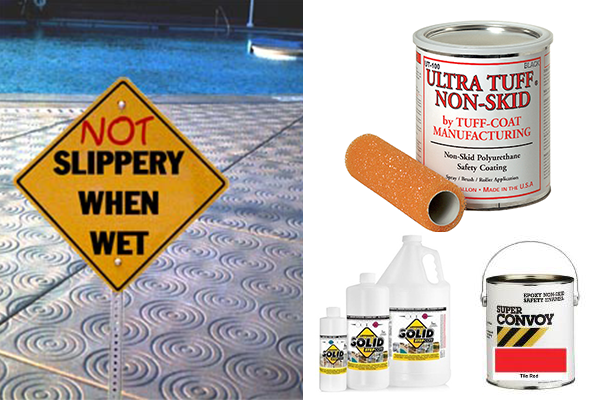 Slip and fall accidents are among the world's leading causes of injuries. Smooth floor surfaces can become dangerous, even deadly, especially when wet. The good news is that there are many very effective anti-slip solutions for slippery floor problems. We offer some of the best.
Our proprietary, Safety Grooving floor scoring process is simply the most effective anti-slip treatment available for concrete and some types of tile floors which become slippery when wet. Safety Grooving is particularly effective when installed on swimming pool decks and in industrial environments where floors are constantly wet.
For other types of applications, we offer anti-slip coatings which can be applied to nearly any type of floor surface. Our anti-slip coatings come in a wide range of colors and textures. One is even clear. Another is a rubberized coating with soft rubber granules to improve traction. We have products that are water-based or made from durable epoxy.
We are proud to offer a wide range of anti-slip flooring products and treatments to suit the needs of our customers. For detailed product information, please click on the photos below. You may contact us by phone at 800-842-2914. You may also request more information or receive a free price quote online.