PopLock Interlocking Rubber Decking Tiles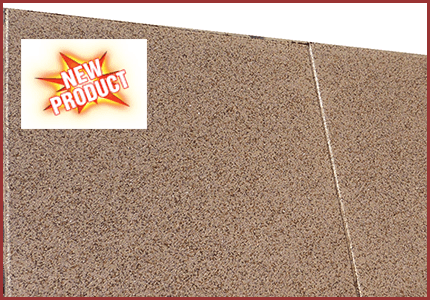 PopLock Interlocking Rubber Decking Tiles
The PopLock Interlocking Rubber Decking Tiles are the latest in new generation of recycled rubber flooring products, produced by MMI in Southern California. Made from recycled tire rubber, this 24" x 24" x 1 3/8" interlocking decking tile uses a brand new type of interlocking edge technology which is certain to be a game changer for the recycled rubber flooring industry.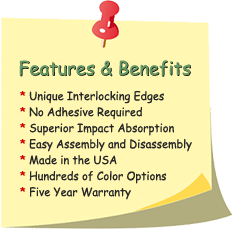 The PopLock Interlocking Edge technology attaches these tiles, edge to edge, without the use of adhesives or mechanical fasteners.
This patent pending interlocking edge design works in a way that is reminiscent of that used in some common zip-to-close resealable plastic bags. On each edge of the PopLock Decking Tiles, there is an oval-shaped male ridge or a similarly shaped female groove. When these components are pressed together, a strong, shift resistant edge connection is created. These tiles can be joined together or separated in seconds, over and over again.
The 1 3/8" thick PopLock Decking tile is a thicker version of the popular 1" thick PopLock Sport product. It employs the same patent pending interlocking edge design and adds an array of 3/8" high circular "feet" on the bottom of each tile. These feet create an air gap between the base of the tile and subsurface, providing robust drainage channels while allowing pathways for wiring and irrigation lines.
PopLock Decking Tiles are ideal for exterior applications on rooftop decks, patios or terraces. The unique interlocking edge system resists shifting or separation, even during extreme temperature cycles.
The ease with which these tiles can be assembled and disassembled simplifies installation and allows for easy access to the subsurface should repairs or maintenance be required.
PopLock Decking Tiles are available in three color series selections. For utility applications, the budget-priced solid black tiles are a great choice. For those who want to add some color, this product is offered in eleven pigmented, (color coated), options. A large selection of standard and custom premium EPDM color mixes are also available in color densities ranging from 10% to 40%.
Links and Downloads
Color Options
PopLock Colors
Color images are an approximation. The actual product colors may differ from the images displayed here.
Downloads
Literature
Pricing
Technical Specifications
Cleaning & Maintenance
Detail Drawings
Warranty
Installation
PopLock Installation Instructions