Rubber Mulch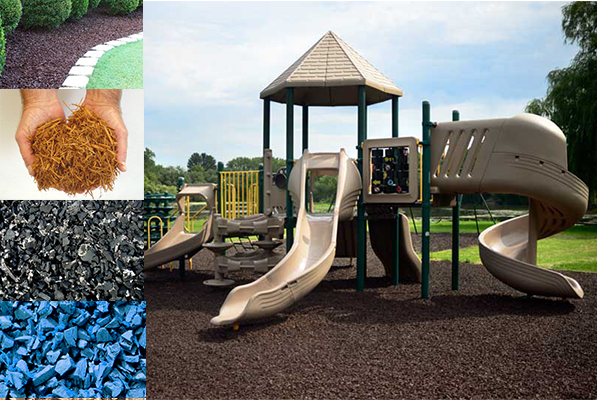 Recycled rubber mulch has many uses. It becomes an impact-reducing safety surface when installed on playgrounds. In this environment, a minimum four-inch layer is recommended for residential installations. For commercial applications, which are commonly regulated by State agencies, a minimum six-inch layer is normally required. When used for landscaping purposes, a two to three inch layer is usually adequate.
Recycled rubber mulch is available in three grades. The premium, shredded grade resembles shredded tree bark. It is very attractive and soft underfoot. Shredded Rubber Mulch is commonly used in both landscape and playground applications.
The standard, nugget grade, is a made of roundish, irregular shaped chunks which range in size from 1/4" to about 3/4". This, lower cost material, is very popular for playground applications.
Both grades of rubber mulch are very effective when used in the equine environment, typically in riding arenas or exercise walkers. For equine applications, the smaller sized particles, typically 1/4" to 1/2" are commonly mixed with several inches of sand. When used in the equine environment, recycled tire mulch is known as "footing". When properly installed, equine footing provides cushioning which protects the animals from injuries. Our equine footing products also help to reduce dust when installed in horse arenas, round pens or exercise walkers.
Have questions about our rubber mulch products? Browse through the information below. You can contact us directly today by phone at 800-842-2914. You can also can request information or obtain a free price quote online.
For Rubber Mulch Product & Pricing Information,
please click on the photos below