SofTile Architectural Paver
SofTile AP Decking Tile
SofTile AP is a rubber architectural paver, designed for use on decks, patios and walkways. This premium product has been highly engineered to offer the best possible performance and appearance. The rubber material is ideal for installation over the fragile rubber membranes that are commonly used to waterproof rooftop deck spaces.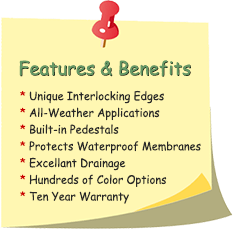 The unique marriage of form and function makes SofTile AP the perfect product for creating comfortable outdoor spaces in any climate zone. These tiles are UV resistant. They are also slightly porous, which means that standing water will soak through the rubber to the membrane below, allowing the surface to dry quickly.
SofTile AP tiles are 24" squares. They come in several thicknesses, however most people use the two-inch version for decking applications. 
These tiles have an interlocking edge profile which precisely aligns the tiles as they are installed. Due to the expansion and contraction that occurs during a normal temperature cycle, a small amount of adhesive must be applied to the interlocking edges to keep the tiles from shifting over time.
SofTile AP is manufactured from recycled tire rubber and specially formulated binding agents which are molded into a high-density, resilient interlocking tiles. The built in pedestal design raises the walking surface off of the membrane, while providing superior, multi-directional drainage channels.
The 64 molded hollow core pedestals, evenly distribute weight. The resilient nature of the rubber provides flexibility that allows these tiles to automatically adjust to minor undulations in subsurface while providing excellent thermal and acoustic insulation.
SofTile AP is available in a variety of pigmented and premium colors. The pigmented rubber buffings that are offered in SofTile's Plus series of colors create an attractive solid colored surface which is highly slip resistant, wet or dry. A selection of eleven premium colored granules can be mixed in virtually any combination resulting in an almost unlimited number of color mixture options. SofTile offers the largest selection of color options in the industry.
Links and Downloads
SofTile AP Colors
Downloads
Literature
Pricing
Technical Specifications
Cleaning & Maintenance
Detail Drawings
Warranty
Installation
SofTile AP Installation Instructions