SofScape Hexagonal Rubber Paver
SofScape is a 9" diameter hexagonal paver that is two inches thick. This is one of our most durable rubber paver products. Each paver weighs about 4.5 pounds.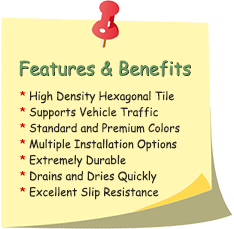 SofScape Hexagonal Rubber Pavers are made from recycled tire rubber. Small rubber granules are mixed with a premium polyurethane binder and molded under heat and high pressure. 
SofScape is produced in Puerto Rico and in Ontario, Canada. The new Canadian production facility, located near Detroit, greatly reduces shipping costs to North American customers while reducing production lead times. 
SofScape is suitable for indoor or outdoor applications. It will withstand virtually any weather or climate condition. While commonly used as a decking paver or for equine applications, SofScape also works well in playground environments.
Unlike most other small paver products, this 2" thick paver has excellent impact absorption properties. The product has been certified with a fall-height rating of four feet, making it a good choice for many playground applications.
SofScape offers a unique combination of firmness and cushioning. This product provides excellent impact damping while retaining the ability to support heavy loads. Because of its high structural density, SofScape one of our most popular products for use locations subject to vehicle and large animal traffic. 
They are offered in four pigmented color options. A collection of premium colors, produced using TPV color granules are now also available, along with hundreds of custom color blends options.
Links and Downloads
Color Options
Downloads
Literature
Pricing
Technical Specifications
Cleaning & Maintenance
SofScape Cleaning & Maintenance Instructions
Warranty
Installation